sophinocka
Sophinočka Výbochová
okres Banská Bystrica
Princezná
22 bodů
Kdo jsem:

"Happiness is the enemy. It weakens you. Puts doubts in your mind. Suddenly you have something to lose." (Rush)
"I´m tired of all the pain I feel and hear in the world every day. There´s too much of it. It´s like pieces of glass in my head all the time." (Green Mile)  
"It´s the things we love most that destroy us." (HG)
"You´re gonna think that the pain will never end, but it will. But first you have to let it all in. You can´t fight it. It´s bigger than you. You have to let yourself drown in it but then eventually, you´ll start to swim and every single breath that you fight for will make you stronger." (TVD)
"We need to be able to forget. Fade the bad, perfect the good." (Humans)
"Love requires sacrifice.... always." (Longest Ride)
"Life is a series of colossal mistakes." (Like Sunday Like Rayn)
"Sometimes people just come through to tell you something... and then once you heard it, they go." (J&R)
"Sometimes someone shows up in your life, and you help each other without even knowing it." (Safelight)
"The Loneliest person is the kindest, the Saddest person smiles the Brightest because they They don´t want others to feel the same pain." (Hope)
"You know what you do when all you know is people taking? You start to give, give it away before they can take it from you. Give it all away for free, and that way, you can pretend that it doesn´t hurt." (AHS)
"Our spring was wonderful, but summer is over now and we missed out on autumn. And now all of a sudden, it's cold, so cold that everything is freezing over. Our love fell asleep, and the snow took it by surprise. But if you fall asleep in the snow, you don't feel death coming." (True)
"I believe in friends. I believe we need them. But, if one day you find that you just can´t trust them any more... well what then?" (Shallow Grave)
"The things change. The people you thought you like turn out to be as bad as the people you left behind." (How to make love..)
"Grief is like a suitcase that sits at the bottom of your bed. And no matter what, without fail, you have it pick it up every day, take it with you. Some days, it will be filled with rocks, and you won´t think you can carry it. And then other days... Light as a feather." (The Whispers)
... na Konci - rozmýšľanie o Začiatku...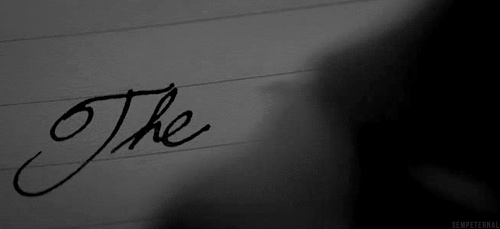 Veřejné: